We've got kids of our own so totally understand the treat-sugar-bouncing-off-the-walls conundrum. That's why we developed our Little Jude's range, with 30% less sugar than other comparable lollies. Made with naturally sourced ingredients you can now enjoy more fun, with less sugar!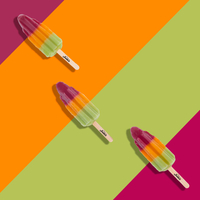 Our Fruit Rockets are out of this world! Made from fruit and veg juice these colourful rockets contain less than 25kcal.
Watermelon Rockets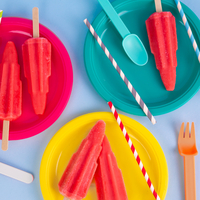 Our Watermelon Rockets are officially Great Taste Award* winners! With a true watermelon flavour and hot pink colour they are a fun and refreshing treat on a hot summer's day, and only 24 calories per rocket.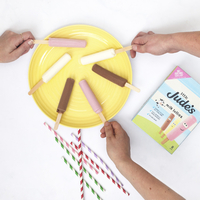 Milk Lollies
With Vitamin D and calcium for stronger bones, 30% less sugar than comparable lollies and delicious vanilla, chocolate and strawberry flavours our Milk Lollies are a perfect everyday treat! Our Vanilla Milk Lolly is a 2 star Great Taste Award winner with the judges saying 'we loved the premise behind this, and were delighted that it tasted delicious and creamy and rich' – thank you kindly!
All our Little Jude's lollies contain at least 30% less sugar than Public Health England's recommended sugar levels as part of their childhood obesity plan.