We've got kids of our own so totally understand the treat / sugar / bouncing off the walls conundrum. That's why we developed our Little Jude's range, all with lower sugar. Made with naturally sourced ingredients and 30% less sugar than other comparable lollies you can enjoy giving your Little Jude's a treat as much as they'll enjoy eating it!
Our Fruit & Veg Rockets are out of this world! Made from fruit and veg juice these colourful rockets contain less than 25kcal.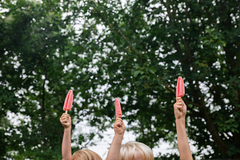 Watermelon Rockets
Our newest Rockets are officially Great Taste Award* winners! With a true watermelon flavour and hot pink colour they are a fun and refreshing treat on a hot summer's day, and only 24 calories per rocket.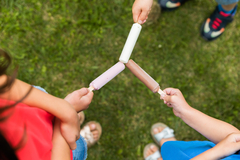 Milk Lollies
With Vitamin D and calcium for stronger bones, 30% less sugar than comparable lollies and delicious vanilla, chocolate and strawberry flavours our Milk Lollies are a perfect everyday treat! Our Vanilla Milk Lolly is a 2 star Great Taste Award* winner with the judges saying 'we loved the premise behind this, and were delighted that it tasted delicious and creamy and rich' – we couldn't agree more!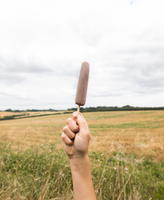 Plant Based Chocolate Lollies
Rich, creamy, chocolatey AND plant based our Plant Based Chocolate Lollies are a perfect treat. With 30% less sugar than other comparable lollies they can be enjoyed by the whole family!
All our Little Jude's lollies contain at least 30% less sugar than Public Health England's recommended sugar levels as part of their childhood obesity plan.
*2021 Great Taste Awards