As a family we love all the trimmings at Christmas, and if your celebrations are anything like ours you'll agree that means ice cream AND custard! With our new vegan and dairy custards, as well as classic Vanilla Clotted Cream and Vegan Vanilla Bean ice creams, there's something for the whole family.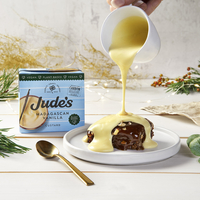 Vegan Madagascan Vanilla Custard
This plant based alternative to classic vanilla custard is a sweet and smooth vegan vanilla custard made with a creamy oat base and real Madagascan Vanilla.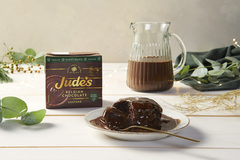 Vegan Belgian Chocolate Custard
This Great Taste award winning Vegan Chocolate Custard is made with a creamy oat base and real Belgian Chocolate to create a silky smooth chocolate custard.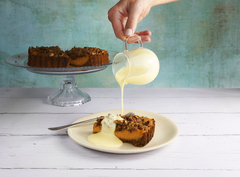 Madagascan Vanilla Custard
An absolute Christmas classic, Jude's Madagascan Vanilla Custard is a rich, creamy custard that's perfect with Christmas pudding, mince pies and more.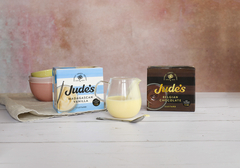 Belgian Chocolate Custard
Made with real Belgian Chocolate, Jude's Belgian Chocolate Custard is rich and indulgent atop a pud or on its own!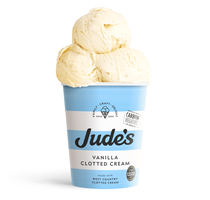 Vanilla Clotted Cream ice cream
Our creamiest vanilla ice cream is made with real West Country clotted cream and is flecked with vanilla pods. It's also a two-time Great Taste Award winner!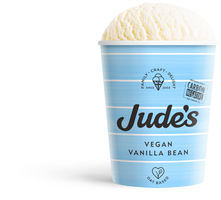 Vegan Vanilla Bean ice cream
Smooth, creamy oat milk is the base for our plant based Vanilla Bean ice cream, the perfect accompaniment to festive desserts for vegans and those trying to eat a more plant based diet.