Indulgent, delicious and seriously chocolatey; we think you'll love this recipe for our chocolate mud cake!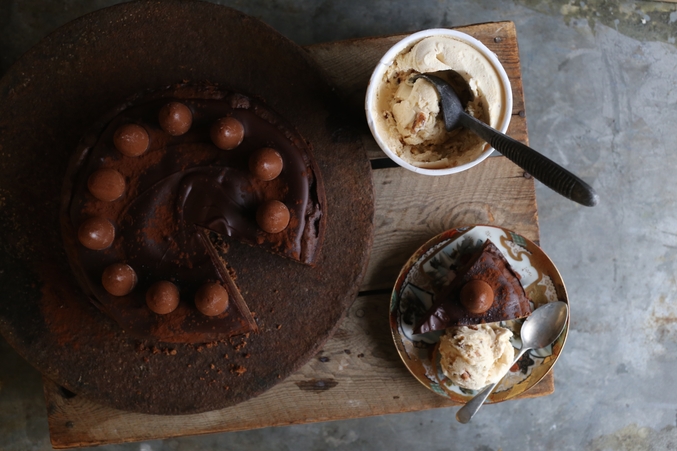 TOP TIP
This brownie cake will hold well in an airtight container for up to 7 days (if it doesn't get consumed in the first sitting!)
PERTINENT INFORMATION
PREP TIME 40 minutes
COOK TIME 25 minutes
SERVES 8-10
THE INGREDIENTS
FOR THE BASE
250g dark digestive biscuits
85g lightly salted butter, melted
FOR THE FILLING
100g unsalted butter
100g dark chocolate, minimum 70% cocoa solids
1 x 400g tin black beans, drained
2 large eggs
160g golden caster sugar
1 tbsp. treacle
70g plain flour
50g cocoa powder
1tsp. vanilla
FOR THE CHOCOLATE GANASH
100g dark chocolate
50g unsalted Butter
10 chocolate eggs
Cocoa powder, to dust
THE METHOD
STEP 1.
Preheat the oven to 180 celsius, gas mark 6.
STEP 2.
Make the base. Place the biscuits in a food processor and blitz until you have a fine crumb. Add the melted butter and blitz until everything is combined. Spoon the filling into a 24cm tart case and press into the bottom and, using the back of an oiled spoon, flatten the mixture, making sure the crumb is compacted well. Bake in the preheated oven for 10 minutes. Leave to cool before filling.
STEP 3.
Make the filling. On a medium heat bring a medium sized pan of water to a simmer; place a bowl over the pan that fits neatly. Add to the bowl the chocolate and butter and melt gently, stirring occasionally. Set aside to cool slightly.
STEP 4.
Empty the beans into the bowl of a food processor and blitz until you have a rough paste. Add the eggs and caster sugar and continue to blend together. Add the cooled chocolate and butter mixture, the treacle, plain flour, cocoa powder and vanilla. Blend until you have a thick, luxurious paste, using a spatula to scrape down the sides if needed.
STEP 5.
Pour the brownie mixture over the cooled base and bake for 25 minutes. Remove from the oven and allow to cool completely. Remove from the cake tin.
STEP 6.
To make the ganache simply place the chocolate and butter in a small saucepan over a very gentle heat to prevent the chocolate burning. Gently stir until you have silken, molten lava. Remove from the heat and pour over the cooled cake.
STEP 7.
Decorate the cake with chocolate eggs and dust with cocoa powder. Serve with a generous scoop of our ice cream.
STEP 8.
Enjoy!