We love families. We love spending time cooking with our families. So here is a really simple ice cream recipe to make at home this summer with the kids, grandchildren, nieces and nephews. No ice cream machine required. Wonderful!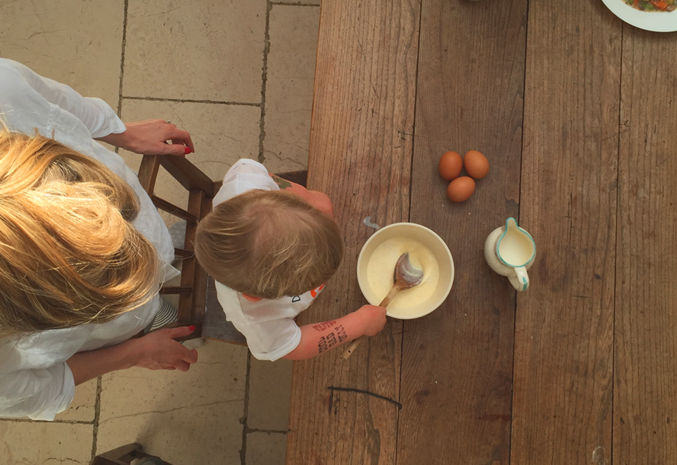 The more times you churn, the creamier the scoop!
PERTINENT INFORMATION
PREP TIME 20 minutes
CHURN TIME 25 minutes
THE INGREDIENTS
FOR THE BASE
1 handsome vanilla pod
300ml full fat milk
300ml double cream
100g caster sugar
4 egg yolks
THE METHOD
STEP 1.
Start by placing a loaf tin sized container in the freezer.
STEP 2.
Split the vanilla pod length ways and scrape the seeds outs in a pan with the milk and cream.
STEP 3.
Bring your pan to the boil and simmer for 5 minutes.
STEP 4.
Remove from the heat and allow the flavours to get to know each other for 20 minutes or so.
STEP 5.
In a mixing bowl whisk the egg yolks and sugar together until pale and fluffy.
STEP 6.
Return the cream mix to the heat until it's on the cusp of boiling, at which point strain the milk mix in a sieve and beat the mix into the egg and sugar mix.
STEP 7.
Return the custard mix to the heat and stir constantly for 10 minutes or until thick.
STEP 8.
Place a small bowl into a larger bowl containing ice. Pour your mix into the smaller bowl and allow to cool. Then place in the freezer.
STEP 9.
After 60 minutes remove from the freezer and churn vigorously and return to the freezer. Repeat step until the ice cream is smooth, creamy and frozen!