The leaves are falling and there's a nip in the air! All this Autumn-ness has us dreaming of piping hot puddings. Why not whip up our Pear, Blackberry and Pecan crumble? Perfect served with a scoop of creamy Salted Caramel...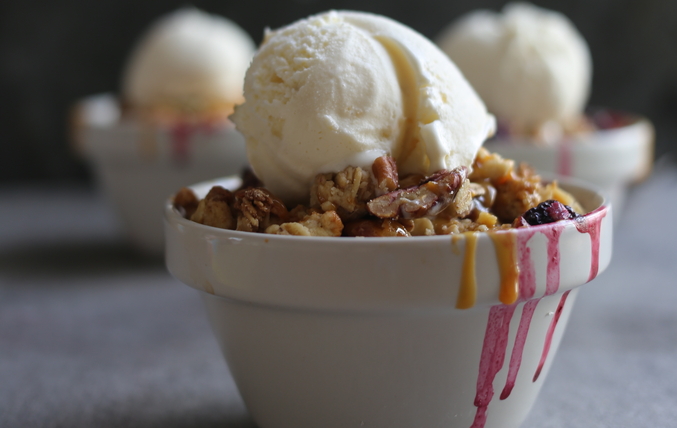 Pertinent Information
Prep time: 30 minutes
Cook time: 45 minutes
Serves: 6
THE INGREDIENTS
FOR THE CRUMBLE
125g Butter, cut into cubes
100g Maple syrup
1 pinch salt
125g Plain flour
100g Granola cereal
100g Pecans
FOR THE FILLING
1kg Ripe Conference pears
300g Blackberries
3 tbsp Caster Sugar
Juice of 1 lemon
Step 1.
Preheat the oven to 190C/fan 170C/gas mark 5.
Step 2.
Melt the butter in a large pan, add the syrup and salt. Stir. Add the flour, nutty granola cereal and pecans. Mix well and set aside.
Step 3.
Prepare the pears by peeling and removing the core. Cut the flesh into small, 2-3cm chunks. Empty the pear, sugar and lemon juice into a medium saucepan and place on a medium heat. Cover and gently cook for 10-15 minutes until the pear has begun to soften. Remove from the heat and stir through the blackberries. Decant the fruit mix into 4 x 200ml pudding bowls.
Step 4.
Scatter the crumble over the filling and bake for 30-35 minutes or until fruit juice is bubbling up through the sticky crumble topping. Remove from the oven and serve topped with a scoop of Jude's Vanilla Clotted Cream ice cream.
Top Tip
Serve with a scoop of Salted Caramel or our Madagascan Vanilla custard!