Christmas pudding not for you? Try our irresistible Salted Caramel Ice Cream Cake for a dreamy alternative this Christmas. In case Christmas pud is your bag see our Ultimate recipe here.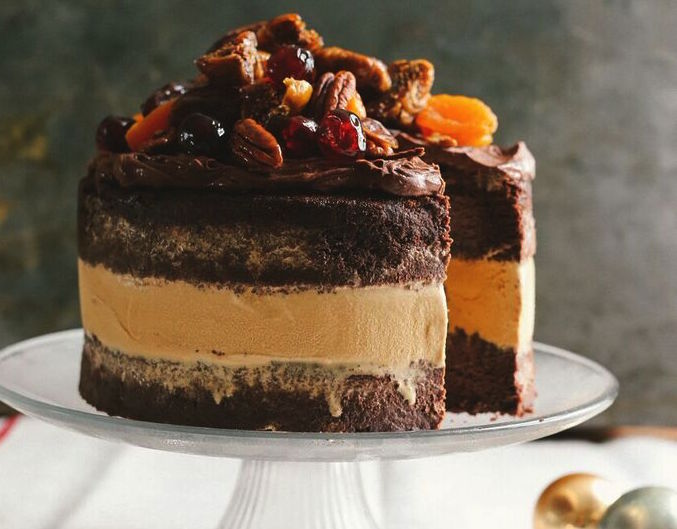 PERTINENT INFORMATION
Prep time: 35 minutes plus three hours freezing time
Cook time: 45 minutes
Serves: 12
The Ingredients
FOR THE CAKES
4 medium eggs
1 tsp. Vanilla extract
300g Self-raising flour
2 tsp. Baking powder
400g Caster sugar
50g Cocoa powder
50ml Sunflower oil
250g Unsalted butter, very soft, plus extra for greasing
FOR THE FILLING
1 x 460ml Tub Jude's Salted Caramel Ice Cream
FOR THE GANACHE ICING
100ml Double Cream
1 tsp. Vanilla extract
1 tbsp. Unsalted butter
100g Dark chocolate
FOR THE TOPPING
A selection of dried fruits, including apricots, pecans, dates and glace cherries
You will also need
3 x 23cm cake tins
The Method
Step 1.
Begin by allowing the tub of ice cream to soften slightly. Line one of your cake tins with cling film and empty the ice cream into the tin. Using a spatula, level out the ice cream and place in the freezer to re-freeze.
Step 2.
Next, make the cakes. Preheat the oven to 180oc / fan 160oc / gas 4. Grease the remaining 2 x 23cm round cake tins and line with baking parchment.
Step 3.
In a bowl, mix the cocoa powder with 200ml boiling water and stir until smooth. In a separate bowl, whisk the eggs with the vanilla extract and 90ml water until combined, then set aside.
Step 4.
In another bowl, sift the flour with the baking powder and caster sugar. Add the cocoa mixture and the oil and butter. Beat for 1 minute using an electric hand mixer. Gradually add the egg mixture, whisking well after each addition. Divide the mixture between the 2 cake tins. Bake for 40-45 minutes, or until a skewer inserted in to the cakes comes out clean. Leave to cool in the tins for 10 minutes, then cool completely on a wire rack.
Step 5.
For the chocolate ganache, gently heat the cream, vanilla extract, butter and chocolate in a heavy-based pan. Remove the pan from the heat and whisk the mixture until smooth and thickened.
Step 6.
When you are ready to assemble the cakes, simply remove the ice cream 'disc' from the freezer. Unwrap and place on top of one of the cooled cakes. Top with the remaining cake. Spread the ganache icing on top of your cake and decorate with a pile of dried fruit. Just before going to the table, use a palate knife to smooth off the edges and make the ice cream flush with the cake.
Step 7.
Eat immediately.